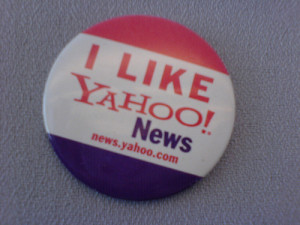 In February, Yahoo News had more than 43 million visitors, making it the most popular news site above even CNN and MSNBC's digital versions. Yahoo News wants to increase its popularity, however, and has recruited a few professional journalists to help. The list includes current and former reporters and editors from media outlets such as Politico, BusinessWeek, Good Morning America, The New York Observer, WashingtonPost.com, and TalkingPointsMemo.com.
"My hopes are to continue to build out a voice for our media properties and to replicate the success we have had in Yahoo Sports," said James Pitaro, head of media at Yahoo. The company wants to maintain its edge over competitors such as Google.
The journalists will create original content for the site in both written and video formats. They will accompany the content that Yahoo News already licenses from other sources.
A newly opened bureau in Washington, D.C., will be headquarters for the efforts. Reporters include Michael Calderone, Jane Sasseen, Chris Lehmann, Brett Michael Dykes, and Emmy-winning news producer Anna Robertson. Calderone explains why he left Politico in order to work for the Yahoo News project:
[…] I'm moving on because the chance arose to be a part an exciting new venture being launched by Yahoo. At a time of contraction in much of the legacy media, I think it's important to look for those pockets of expansion and experimentation in original content that might be a good fit. And this seemed like a unique opportunity to cover the media-not just in DC-for a large audience of news consumers.
Source: "With Hirings, Yahoo Steps Up Its News Coverage," The New York Times, 03/30/10
Source: "Calderone Breaks His Silence…," Media Bistro's FishbowlDC, 03/31/10
Source: "Bookforum Editor Chris Lehmann Joins Yahoo News," The New York Observer's Media Mob blog, 03/16/10
Image by misocrazy, used under its Creative Commons license.