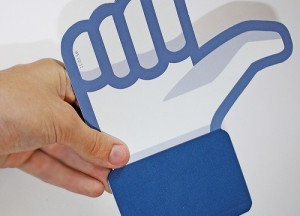 Content marketing on Facebook got a numeric proof boost when ComScore released data this week indicating that people viewing Facebook content are more likely to buy, reports Advertising Age.
According to Cotton Delo at Ad Age, the message is:
[…] that just because you don't notice Facebook marketing messages because they're packaged in innocuous-seeming display ads or buried in your news feed in between photos of your sister's vacation and your high school friend's baby doesn't mean they aren't working.
Done properly, content marketing doesn't feel intrusive or pushy. Instead, it subtly provides value of some kind (education, entertainment, community building, etc.). This, in turn, ultimately encourages real-world behavior — including purchasing.
Newsblogging to the Rescue
You can't fill a Facebook page with self-promotional updates and expect consumer engagement and loyalty. So what can you offer? What is in an almost inexhaustible supply? The answer: specialized news and commentary that is valuable to your audience. In other words, earned media.
Our Newsblogging process combines professional journalists with several other team members to ensure that your brand finds and curates news on topics important to your customers and your industry. This translates into a lot of sharable social media material in general, and, a lot of content specifically suitable for Facebook.
Earned Media Is Everything
When budgets are tight, businesses must rely on better content and developing earned media opportunities. In "Why Your Media Plan Needs a Content Component (And How To Do It Right)", Ad Age writer Daisy Whitney underscores this point with her quick Q&A with Carat USA President Doug Ray, who manages massive corporate brands.
Explains Ray:
[T]he [marketing] money will shift to content production, social mediations, social networking and clients adding resources they didn't have before.
Ray adds that consumers are skeptical, so their approach, for large corporate brands, was to create content trusted bloggers would share. Since so much of the content could be picked up and syndicated by popular bloggers, it is also typically routed to Facebook. Added exposure through trusted gatekeepers (bloggers and friends) is the way forward. Again, this points to the value of Newsblog and its accessibility for smaller companies.
Facebook "haters" wonder if the ComScore "proof" that the Facebook platform works as a branding powerhouse comes as a way to draw attention from a softer-than-expected IPO and privacy lawsuit. Even if you believe the critics, one truth remains: People trust people. People need to trust your content if they're going to be willing to share it in any social network. Give them professionally sourced news, and you'll be one step closer.
Image by GOIABA (Goiabarea/Johannes Fuchs), used under its Creative Commons license.